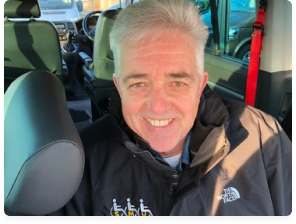 Jim is a problem solver, which makes him invaluable in managing the logistics here at SMV. Whether it be fixing something small to arranging the deliveries and collections of our wheelchair accessible vehicles, he can always be relied on to deliver on all fronts calmly. He has a keen eye, and many of our website pictures are Jim's handiwork. Jim's calm demeanour ensures the practical side of the business runs smoothly and efficiently here at Southern Mobility Vehicles.
His exceptional organisational skills mean that when you meet Jim, you'll quickly know you can be at ease with him. Whether you have an appointment with us at our business premises or are receiving your new WAV at home, Jim's calm, organised, and patient manner will guide you through any worries or concerns you may have.
When Jim came to SMV in 2018, we quickly identified that his diverse and worldly CV made him the ideal candidate for the role we were seeking. Jim's broad spectrum of abilities has meant many different positions worldwide, with transport and travel constantly at the core of his being. Jim's skills and wanderlust have taken him to many, many countries across our globe, and he has spent time in the Middle East and the USA, amongst many other countries. He's travelled extensively across Europe too, having visited most European countries with work and for pleasure. Jim's natural desire for knowledge too, has meant a plethora of qualifications across many industries.
He is also qualified as an offshore yacht master and a commercial skipper and instructor, endorsed by the Royal Yachting Association.
Following five years in the building trade, Jim's carpentry skills led him down the route of setting up his business, building high-quality handmade furniture. Then a chance meeting ended up with an invite to work out in the Middle East for the military on aircraft hangers on a short-term contract.
When the contract ended, he decided to spend three months travelling back on an open-air ticket; he made the most of visiting as many countries as possible that he could on his way home back to Blighty. Here he is pictured in Cape Town, South Africa.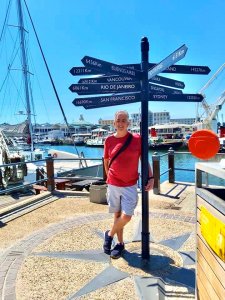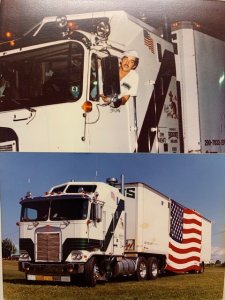 Jim was to become an LGV owner-driver, spending three months in the USA driving long haul across this vast landmass in a Kenworth 18-wheeler.
During his time there, he travelled to 48 States, clocked up 50,000 miles, and made many new friends in this vast and impressive country. Here he is pictured left with the Kenworth rig.
Jim later returned to the UK and trained as a driving instructor in south London before moving to Kent and taking up a new HGV driver role. In 1980 Jim bought his first truck and spent ten years building a transport business that took him across Europe before looking towards transport management for his future.
In 2003, Jim's new focus and natural drive would also involve his wanderlust for travel again when he took a contract to design and build a clinical treatment facility in West Sussex. For research, he once again travelled to the USA and the Netherlands before returning to his home county of West Sussex to manage the design, integration and build of this substantial but necessary facility.
Jim has been a project manager, depot manager, transport manager, and commercial manager over his varied and exciting career. Now the sea had begun to whisper in his ear.
Sailing was Jim's growing passion after a brief experience many years ago on a friend's yacht grew. In fact, Jim was becoming utterly hooked on yet another mode of transport. This time, it was the sea calling him rather than terra firma, and as always, Jim's passion became his work.
He decided to buy a yacht for himself and his wife, and for four years, they lived aboard "Stealaway", travelling extensively across the open seas.  Here is "Stealaway" in full sail on route to France.
This passionate affair steered Jim towards a new industry, and he ended up working in all things marine; the building, repairing and maintaining yachts and boats. Then he ended up selling, delivering, and teaching new yacht owners how to use their expensive acquisitions had this become his life for quite some time.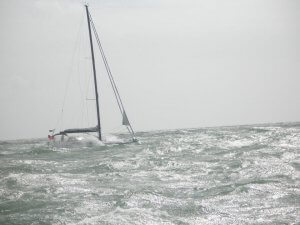 The sea and sailing had fully fuelled Jim's quiet but passionate nature yet again, and his love of the sea took him around the globe on many adventures delivering these beautiful yachts. He was ideal for ensuring these expensive crafts' safe delivery in pristine condition after their sea trials as a qualified skipper and instructor.
Here is Jim delivering a yacht to the Southampton Boatshow in a force 8 gale, and yes, the boat and Jim arrived in one piece.
Jim is the epitome of what customer service should be all about, and he fits snugly into our small but dynamic team here at Southern Mobility Vehicles. Jim is an excellent problem solver who will always find a solution to any problem should it arise.
His expertise and technical knowledge of WAVs and attention to detail mean he will quickly put anyone at ease with his gentlemanly, easy-going ways. If you want to talk technical, Jim is your man too and he can answer most questions or queries, or his research ability will certainly help him find out how to help you. Jim is a different thinker and a doer as well, and he's always considering how to solve a problem. In short, Jim is just the right person we needed to fully complete our customer centred proposition for that most sensitive moment; delivering an often new experience that is a wheelchair accessible vehicle.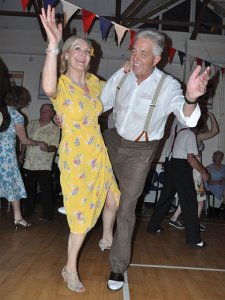 One of Jim's passions is photography, and most of the images and videos you are looking at on our website are his work. Having tasked Jim to do this, we are thrilled with the outcome.
Nowadays, apart from photography, Jim's passion is dancing, and in particular, Lindy Hop and the Jitterbug; this man can move! None of us here can muster a waltz, but Jim certainly can dance. Here, he is pictured with his wife Roz, oblivious to the world and thoroughly enjoying one of the many hours he devotes to their love of dance.
Jim is without question worldly, having travelled and had adventures in life that most of us can only dream about; we are proud he has chosen to work with us. Jim is a true asset to the business, and whilst he still has his wanderlust, we think he's grounded with us, and he lives nearby too.
Our people's quality is vital, and our team is the key because it unlocks the good in everything we strive to be in our industry. As always, you can speak to any of us here at Southern Mobility Vehicles, so feel free to call and ask for Jim or any one of us; we are here to help at all times. After all, it is your hour of need, and we are all here for you.