Wheelchair Accessible Vehicles for Sale in Guildford
We provide the best-quality wheelchair accessible vehicle advice
As probably one of the top authorities in the UK on wheelchair accessible vehicles (WAVs) & certainly in Guildford, Surrey, we are thrilled to introduce Southern Mobility Vehicles (SMV), your prime stop for unrivalled mobility solutions in Guildford. Our forte lies in securing and supplying the crème de la crème of pre-owned WAVs, setting the bar in the mobility vehicle market for unmatched quality and value for money.
At SMV, we comprehend that mobility often forms the bedrock of autonomy. Therefore, we are unswerving in our commitment to facilitate smoother, safer and more comfortable travels for wheelchair users. Our carefully chosen range of mobility cars not only satisfies but surpasses industry norms, giving our patrons the confidence of quality and dependability.
We are much more than a standard WAV vehicle purveyor; our vast experience in the wheelchair-accessible vehicle sector empowers us to select only the most trustworthy and efficient wheelchair-accessible vehicles meticulously. Our selection includes many pre-owned and new choices, all competitively priced, enabling us to meet various needs and budgets.
Your path to a more accessible world commences here at Southern Mobility Vehicles – your dependable ally in discovering outstanding mobility cars and WAV vehicles in Guildford. Allow us to embolden your journey and redefine what mobility signifies for you in the world of "wheelchair accessible vehicles in Guildford, Surrey".
About us
New to WAVs?
Try our Unique,
FREE Find a WAV service
We find the right WAV for you
Finding yourself swamped with continuous internet searches and incessant phone calls? Even when the supply of WAVs is robust, the quest for the ideal wheelchair-accessible vehicle can prove rather taxing, especially in Guildford.
Our distinct, industry-spanning search service and impartial advice promise to rescue your time and alleviate your stress.
Respond to 7 straightforward queries on our 'Find a WAV' service, and let us tackle all the heavy lifting on your behalf. We're at your service, ready to assist in your search for the perfect "wheelchair-accessible vehicles in Guildford".
Go to WAVFinder
Latest Used Wheelchair Accessible Vehicles for Sale in Guildford
These pre-loved WAVs are checked, in stock & ready
Discover our latest array of almost-new WAVs, or delve into our meticulously curated selection of pre-owned WAV vehicles. Each has been rigorously inspected and certified, ensuring your absolute peace of mind while exploring the world of superior mobility solutions.
View all used WAVs
Experts in Wheelchairs Accessible Vehicles (WAVs)
Our inventory consistently boasts an extensive assortment of pre-owned wheelchair-accessible vehicles, prepared and waiting for your perusal. Whether your requirement is for wheelchair-friendly cars capable of accommodating the bulkiest scooter, the most cutting-edge electric wheelchair, or even an all-terrain chair, we are certain we can match you with the perfect vehicle.
Drawing on our collective experience of over six decades in the motor trade, we diligently source a diverse range of stock to address our customers' unique, often intricate and variable requirements. Trust in our expertise to find a tailor-made mobility solution for you.
Included with Every Purchase of a WAV Vehicle in Guildford
3-year comprehensive vehicle and conversion warranty with unlimited claims on unlimited mileage

3-year vehicle rescue with home start, roadside, onward travel and accident recovery

A new MOT if there are less than nine months to run with all advisories cleared regardless

Vehicle service and documented cambelt & water pump replacement if due or nearly due

Free delivery across mainland United Kingdom to your preferred location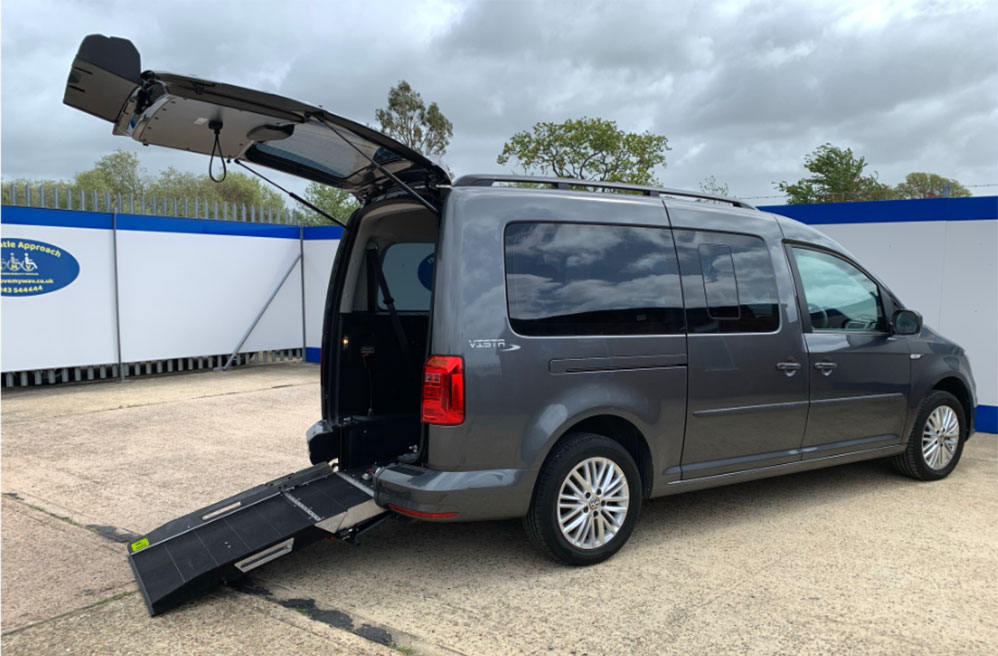 Unleash Your WAV's Potential with Southern Mobility Vehicles
Seamlessly sell your WAV for competitive prices
At Southern Mobility Vehicles (SMV), we appreciate the significance of facilitating a straightforward, prompt, and gratifying pathway for selling your Wheelchair Accessible Vehicle (WAV). We aim to provide a smooth and worry-free "sell your WAV" experience, guaranteeing a competitive and fair remuneration for your esteemed asset.
Our all-encompassing purchasing service has been crafted, keeping you, the seller, at its core. We value your trust and reciprocate with a swift and fair buying process, committed to delivering the worth you deserve.
Pondering over "sell my WAV"? Consider SMV as your trusted associate. Our prowess and deep-seated comprehension of the mobility vehicle market assure that we recognise the genuine value of your WAV, rewarding you with the most advantageous price.
We extend an invitation for you to witness our dedication and professionalism firsthand. Complete our "sell my WAV form" today, and let us navigate you through the smooth journey of selling your vehicle. Unveil the true worth of your WAV with SMV – where we honour your journey and appreciate its value.
Sell my WAV
Leading WAV Warranty, Insurance & Finance
Insurance & warranty
We aim to streamline your path to securing a wheelchair-accessible vehicle by providing a holistic range of protections. This covers all you require to hit the road and confidently remain there. We include an extensive warranty complete with a comprehensive rescue package and WAV insurance provided by a specialist firm, ensuring peace of mind at every turn.
Finance
Our WAV finance provision stands ready to kick-start your journey, offering that extra monetary assistance should you require it when purchasing a new or pre-owned WAV. This tailored financial aid is designed to make the acquisition of your ideal mobility solution as effortless as possible.
WAV Financing
What our Customers Say After Purchasing a WAV from us
Word for word reviews about Southern Mobility Vehicles Ltd
Mobility Car & WAV Vehicle FAQs
We now have an FAQ list that we hope will help you answer some of the more common ones.
Is a wheelchair access vehicle a WAV?
A vehicle designed or modified to provide wheelchair accessibility is often called a "wheelchair access vehicle" or "WAV".
WAV vehicles typically include a ramp or lift that allows disabled drivers or passengers in wheelchairs to enter and exit the vehicle and securement devices to keep the wheelchair in place during transport.
Additionally, these vehicles usually offer additional space and accommodation for mobility scooters, luggage and other bulky items, thus making road travel relatively simple for individuals using wheelchairs. Find out more here about the different types of WAVs.
Is finance available to purchase a WAV?
Yes, of course, our finance information page is here. To apply for finance on any of our WAV vehicles, you will see a tab on the vehicle page called "Finance". Click this and apply for your wheelchair accessible vehicle finance online.
Do we stock WAV vehicles & mobility cars on-site?
Yes absolutely. We always stock new and used WAVs at our showroom.
According to the University of St Andrews, there are over 11 million disabled people across the UK, including wheelchair users. We want to think they're all getting good advice regarding wheelchair-accessible vehicles.
Sadly, some not-so-good companies are pushing bad advice, selling the wrong type of vehicles to unknowing disabled drivers at prices that would make your eyes water.
Trying to explain that we are not like that is easy to say. To prove it, you must see for yourself and book a wheelchair-accessible vehicle home demonstration, a test drive or only a friendly chat regarding any mobility car. We are one of the UK's leading WAV suppliers who work with all the top converters. Alternatively, you can pop in and look around at our fabulous used WAVs in stock.
Don't hesitate to contact us for more information about the Motability scheme, Motability itself, finance or other purchase options.
Our team is here to help new or existing WAV customers. 0800 0087800 or sales@southernmobilityvehicles.co.uk.
Can SMV help with WAV insurance?
Yes, we can! We have a preferred insurer, but we can help whatever your circumstance with any WAV insurance for total peace of mind.
The Latest Resources from our News Room
News and views in the WAV industry