Welcome to Southern Mobility Vehicles Ltd
Specialists in New & Used Wheelchair Accessible Vehicles (WAVs)
The gentle approach to finding a wheelchair accessible vehicle
SMV is a wheelchair accessible vehicle or WAV specialist.
It seems simple enough; you've had plenty of cars over the years, and now you need one that carries a wheelchair user; maybe you've seen one or two already.
Unfortunately, finding the right WAV for your needs can quickly become daunting. You are entering a world of vehicles that are probably alien to you from the outside alone.
A WAV's interior or "conversion" is our specialist area. We know there are fifty plus different conversions of a Volkswagen Caddy alone, and we know them all.
You've probably got enough on your plate, so why not lean on us; we always go the extra mile. It isn't exactly a field of dreams, so we won't pretend it is either. We are here to help.
More about us
Contact us
Finding the right WAV is not easy
The independent advice we give every customer is always supported by industry-wide research which explores every possible wheelchair accessible vehicle conversion available. The few simple questions our Find a WAV form asks will help us to make your journey much easier.
Go to WAVFinder

A friendly, helpful service for all
We are proud of Our Proposition and our reputation too. We are committed to giving straightforward, independent, and impartial advice on all wheelchair accessible vehicles available to every prospective customer. Whether you are seeking a WAV on the Motability Scheme, or need to rent or buy one, we will help you find the right for your needs.
Read our Proposition

Carefully sourced, reliable WAVs
Our professional buyers know the differences between a well-designed wheelchair accessible vehicle (WAV) and one that is not; we won't buy any vehicle that doesn't meet our strict criteria. Our reputation is important to us, and we want you to have the best possible experience from the moment you contact us through to your purchase.
See showroom

We can buy your WAV from you
Selling your wheelchair accessible vehicle can be a complicated process, and it may have come at a difficult time. With this in mind, we have kept the process as simple as possible. Begin by adding your registration number and answer the few simple questions that follow. It'll take 2 minutes and we always reply, usually within 24 hours.
Sell your WAV
Experts in New & Used WAVs
At our West Sussex based showroom, we make sure we always have a wide selection of used wheelchair accessible vehicles (used WAVs) ready for you to view. Whether you need a WAV that will take the largest scooter or the most advanced electric wheelchair, or even an all-terrain chair, we are confident we will have the right wheelchair accessible vehicle for you. Using our 60 plus years' combined motor trade experience, we work hard to buy a wide range of stock to meet our customers' often complex and varying needs.
What we Always Include with the Purchase of Every Mobility Vehicle
3-year comprehensive vehicle and conversion warranty with unlimited claims on unlimited mileage

3-year vehicle rescue with home start, roadside, onward travel and accident recovery

A new MOT if there are less than nine months to run with all advisories cleared regardless

Vehicle service and documented cambelt & water pump replacement if due or nearly due

Free delivery across mainland United Kingdom to your preferred location
Download OUR Proposition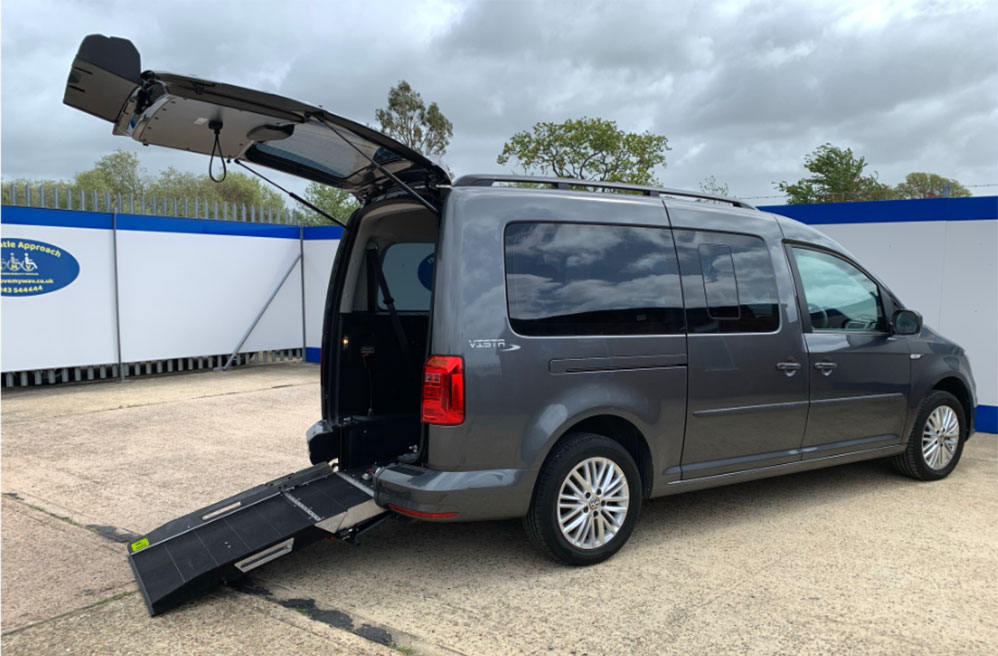 Finding a Wheelchair Accessible Vehicle
You are entering a world of vehicles that are most likely alien to you; this moment of need often arrives when you aren't ready for it.
We understand, so why not lean on us; we always go the extra mile. It isn't exactly a field of dreams, so we won't pretend it is either.
We always offer friendly, practical, and objective help and advice to all, so why not read our testimonials and decide for yourself.
Read testimonials
We use a consultative approach with our customers to establish their needs by asking questions to help guide them towards the right wheelchair accessible vehicles.

Our advice always covers The Motability Scheme's New and Nearly New WAVs, WAV rental and WAV purchase, financed or fully customer-funded.

Our wheelchair accessible vehicles are pre-prepared to the highest standard before we allow you to inspect and test drive them. We are happy to advise if any bespoke adaptions are required and can manage these for you.

We encourage you to come and try out as many vehicles as you want to help you decide what works for you and what does not.

The wheelchair accessible vehicles we display on our website are available to buy unless showing as reserved and all are available for inspection at any time.
Wheelchair Accessible Vehicle Warranty, Insurance & Finance
In order to make your journey to finding a wheelchair accessible vehicle as smooth as possible, so we offer a full range of protection services, covering everything you need to get on the road and stay on it. This includes a comprehensive warranty with full rescue, insurance and finance options.

Warranty
Every WAV we sell comes with a day one, three-year comprehensive warranty and rescue package. You will have a maximum individual claim limit of £2400 including VAT with unlimited claims on unlimited mileage. Your rescue service will come with home start, roadside recovery, onward travel and accident recovery; you are completely covered. New WAVs benefit from our exclusive and comprehensive WAV warranty to run alongside the manufacturer's vehicle warranty.
Read more

Insurance
We recommend Fish Insurance because we've only heard good stories about one or two other insurers out there over the years. It's complex because conversion means confusion for many insurers. If you contact us, we'll tell you who is worth speaking with and explain why Fish Insurance gives you more. After all, Fish specialises in the disability insurance marketplace. Why not give them a call on 0300 331 3924 and quote our dealer code 2487.
Contact us

Finance
We work with Pegasus Finance, who seek the best deals to fund our wheelchair & scooter accessible vehicles for you. Their rates are competitive and they make quick decisions with a patient and attentive service always on offer. Their friendly approach means you can expect your application to progress smoothly if decide to finance your WAV with Pegasus. Why not take a look at what you can expect before you apply.
Learn more
New Wheelchair Accessible Vehicles & Mobility Cars
Our signature car for conversion is the top specification Ford Tourneo Custom Titanium X 185ps auto, plus some valuable extras for the WAV market. We are here to advise you on which conversion type might suit your needs best.
Our full length lowered floor conversion will take up to seven passengers and two wheelchair users with four different rear ramp options we can advise on.


Our flat floor conversion will carry up to seven passengers plus one wheelchair user or five passengers plus two wheelchair users. Choose between an underfloor side lift or an internal rear lift.

To finish and further stylise your new wheelchair accessible vehicle, you can choose from various colour-matched swatches for the anti-slip flooring, carpet and trim. Every WAV we build is bespoke to your needs and wants.

Ford Tourneo
Peugeot Rifter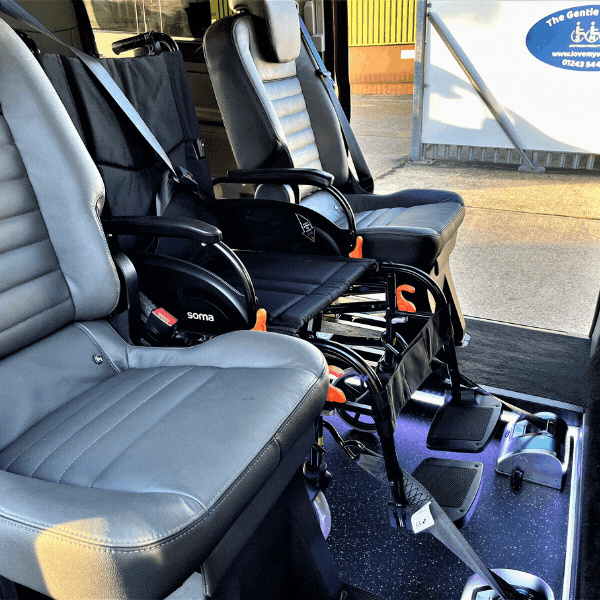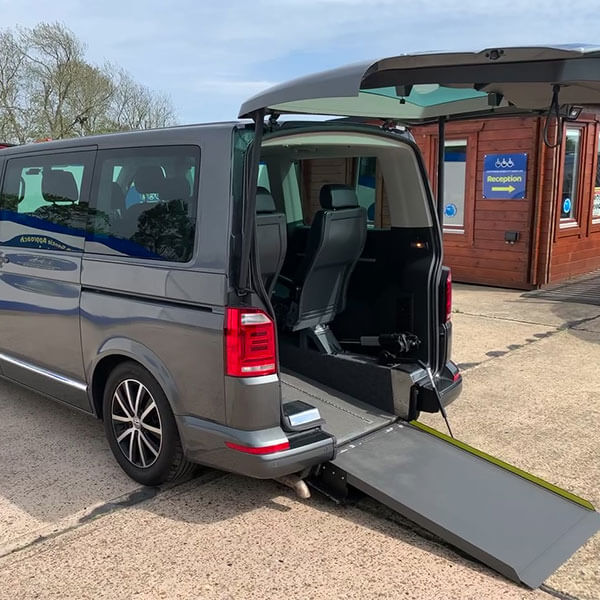 We can Export your Mobility Car/Vehicle
We are experts in exporting wheelchair accessible vehicles all over the world with 40 years of experience.
We can arrange everything for you and have your new or used WAV shipped FOB (Free On Board) for your peace of mind. Knowing that your accessible vehicle will get to you free of any stress or worries means you can look forward to your WAV and how it will change your life.

Contact us for more information and do browse the mobility cars we have for sale, including the new models we now have available.
Call 0800 008 7800
What our Customers Say After Buying a WAV from us
Word for word reviews about Southern Mobility Vehicles Ltd
Frequently asked questions
We now have an FAQ list that we hope will help you answer some of the more common ones.
Is a wheelchair access vehicle a WAV?
Yes, a wheelchair accessible vehicle or WAV is known by many names. Things like wheelchair access vehicles, wheelchair cars, mobility cars, wheelchair access cars, wheelchair access WAV vehicles, WAV cars, vehicle mobility adaptations and wheelchair adapted vehicles. This is to name but a few.
Wheelchair users need to be able to find a trusted specialist in wheelchair accessible vehicle transport and WAV vehicles easily and you can rest assured, with Southern Mobility Vehicles Ltd – the WAV specialists, you as a wheelchair user are going to be looked after and cared for while working with us to help explore the perfect wheelchair accessible vehicles or wheelchair accessible cars for you.
Do we stock wheelchair accessible vehicles on site?
Yes absolutely. We always have a plentiful stock of new wheelchair accessible vehicles for sale and used WAVs at our showroom. We have WAV vehicles as a wheelchair driver or wheelchair passenger, so do not be afraid, we are not pushy salespeople and if you just want to have a look at our WAV vehicles and get some information, that is completely fine.
According to the University of St Andrews, there are over 11 million disabled people in the UK and we would like to think that they're all getting good advice regarding mobility solutions, wheelchair access cars, wheelchair accessible cars, wheelchair vehicles and transport. Sadly there are some not so good companies out there selling some very questionable WAVs at very high prices.
Trying to explain we are not like that is easy to say, but to actually prove it you will have to see for yourself to book a WAV home demonstration, a test drive of a WAV or only a friendly chat regarding any mobility car.
Please get in touch if you need more information about the Motability scheme or Motability itself. Likewise, if you need a home demonstration for any wheelchair vehicles, please get in touch.
The Latest Resources from our Blog
News and views in the WAV industry